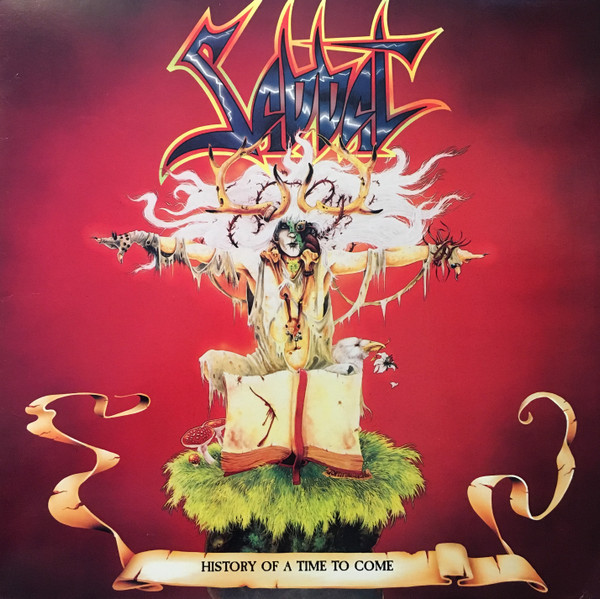 Banda:
Sabbat
Disco:
History of a Time to Come
Año:
1,988
Género:
Thrash Metal
País:
UK
Tamaño:
76.89 Mb.
Luego de más de 20 años de haber sido lanzado éste álbum suena igual de fresco y ha superado con nota
bilidad la prueba del tiempo. Una colección de tracks memorables y escritos con mucha inteligencia, tanto lírica como músicalmente. Los temas van desde Hitler (Behind the Crooked Cross), el antiracismo (I For an Eye), críticas a la naturaleza de algunas religiones (The Church Bizarre) y la canción estelar...... 'Hossana In Excelsis' que trata acerca de la batalla final entre el bien y el mal.
Si buscan lo mejorcito del thrash metal oscuro de los ochentas, empiecen con Sabbat.
P.D.-
Alineación:
Martin Walkyier
:

Voz

Andy Sneap
:

Guitarras Principal

Frazer Caske
:

Bajo

Simon Negus
:

Batería


Tracks:

"Intro" – 2:00
"A Cautionary Tale" – 4:15
"Hosanna in Excelsis" – 4:00
"Behind the Crooked Cross" – 6:00
"Horned Is the Hunter" – 8:08
"I for an Eye" – 5:22
"For Those Who Died" – 6:25
"A Dead Man's Robe" – 4:48
"The Church Bizarre" – 5:07
Página Oficial de Sabbat
Descargar desde Mediafire!!!